These Thin Mint Oreo Pops are such a tasty treat. Crunchy Oreo cookies covered in minty chocolate, for a combination of Thin Mints and Oreo Cookies!
Pin these thin mint oreo pops for later.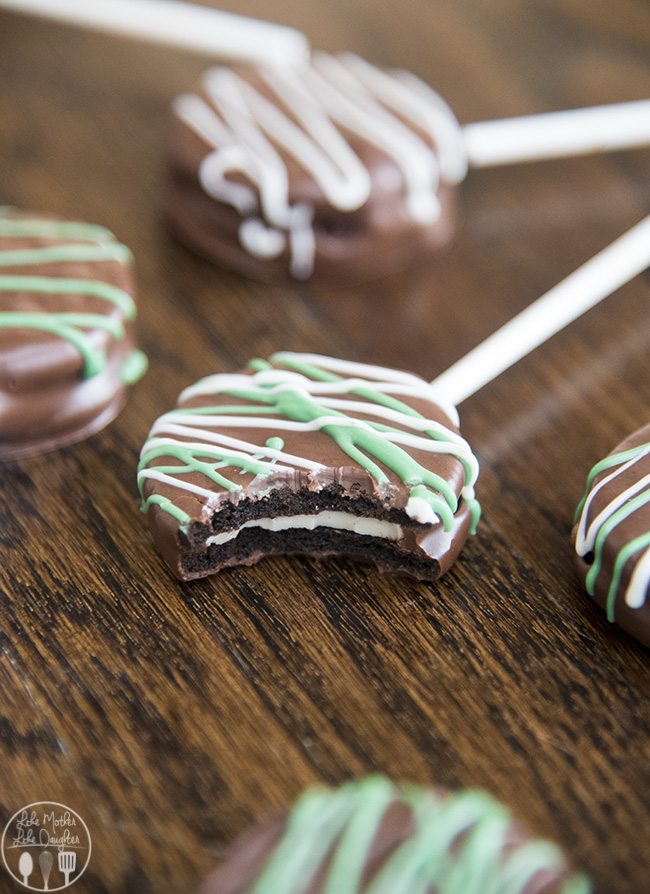 Oh my goodness, its the season of girl scout cookies and I couldn't be happier! Nate ordered 6 boxes from his co-worker's daughter, a variety of Samoas, and Tagalongs. But he forgot to order any Thin Mints, even though I love them too! So I had to make my own.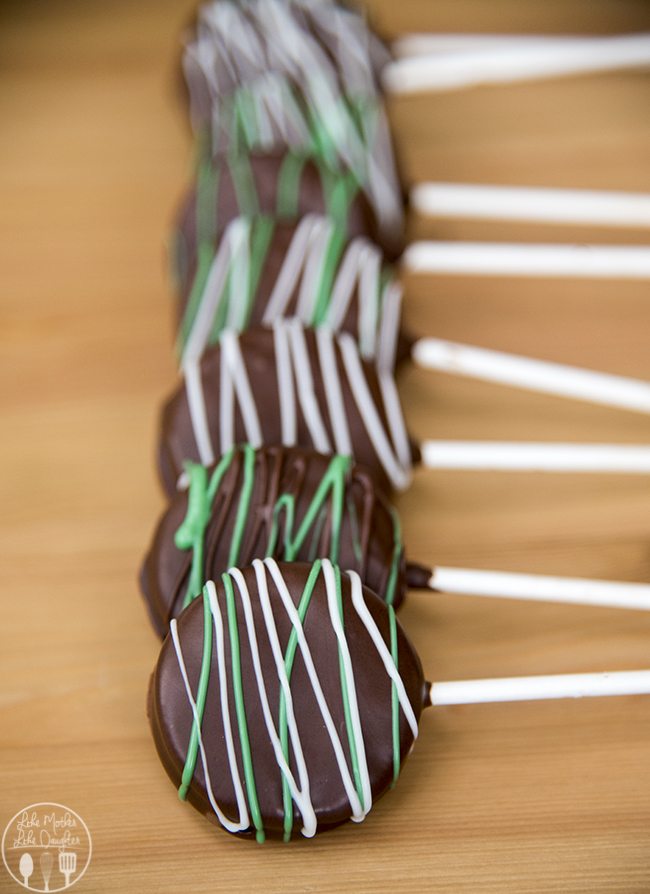 This year instead of making traditional Thin Mint type cookies, I kept the Oreo's whole and stuck them on a lollipop stick to make the dipping even easier. I think I might like them even better this way! They're even funner to eat and now you get the creamy Oreo filling in the middle of the cookie too!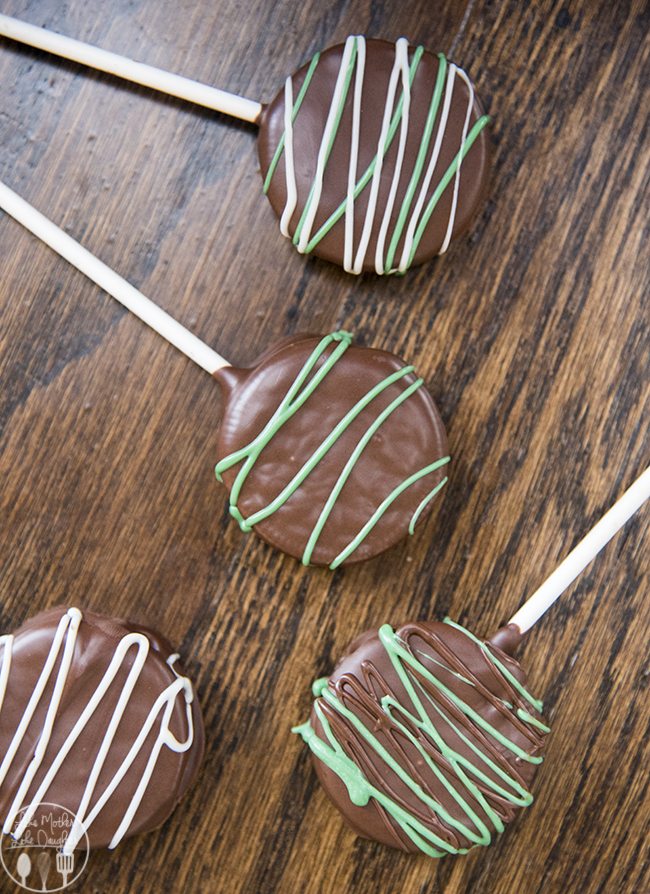 These treats are delicious to eat, or would be cute given as gifts to neighbors in little cellophane bags – if you can imagine having to share them. 😉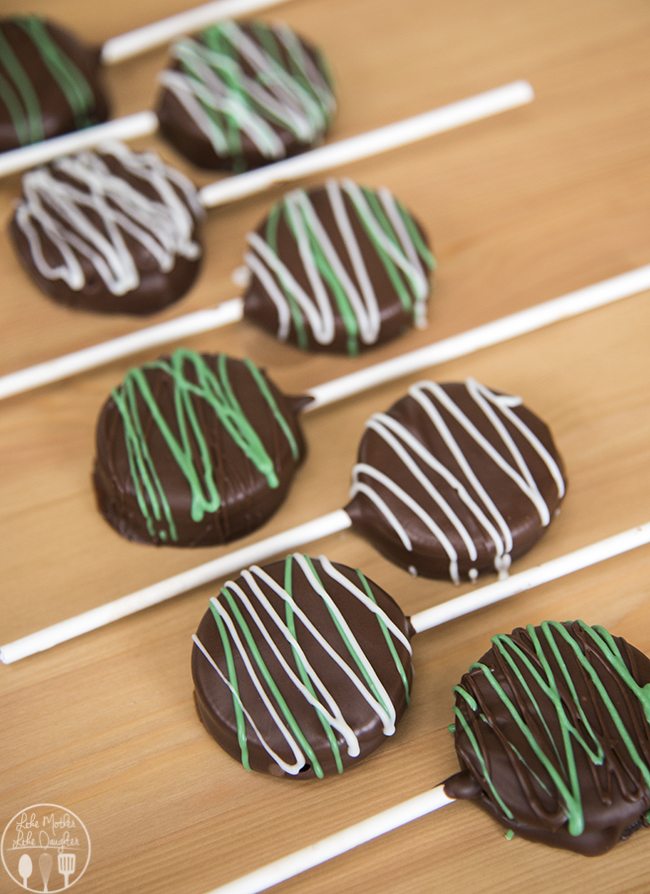 And you only need 5 ingredients/supplies to make these yummy cookie treats! Just make sure you make them as soon as you buy your Oreo cookies, otherwise I'm betting you'll have to buy a new package after your family sneaks into them first 😉
Enjoy!
(I got this idea from my friend Becky's blog – I used my own homemade copycat thin mints recipe)

Thin Mint Oreo Pops
Ingredients
1½ cups semi sweet chocolate chips
¾ tsp peppermint extract
1 TBS coconut oil, optional
14-15 Oreo Cookies
14-15 lollipop sticks
Instructions
Combine chocolate chips, peppermint extract and coconut oil (if needed - it will help thin chocolate) in a medium sized microwave safe bowl. Microwave chocolate in 20 second increments, stirring after each until creamy.
Open each Oreo and scrape off a small line of creme in the middle. Stick each lollipop stick into the melted chocolate and stick into the creme filling and put top back on the cookie. Allow to set till chocolate is hardened. (Stick in the freezer for a quicker set time).
Place cookie in remaining melted chocolate, allowing excess chocolate to drip off the sides.
Set onto a cookie sheet lined with waxed paper and allow to set for a couple hours till chocolate is completely hardened.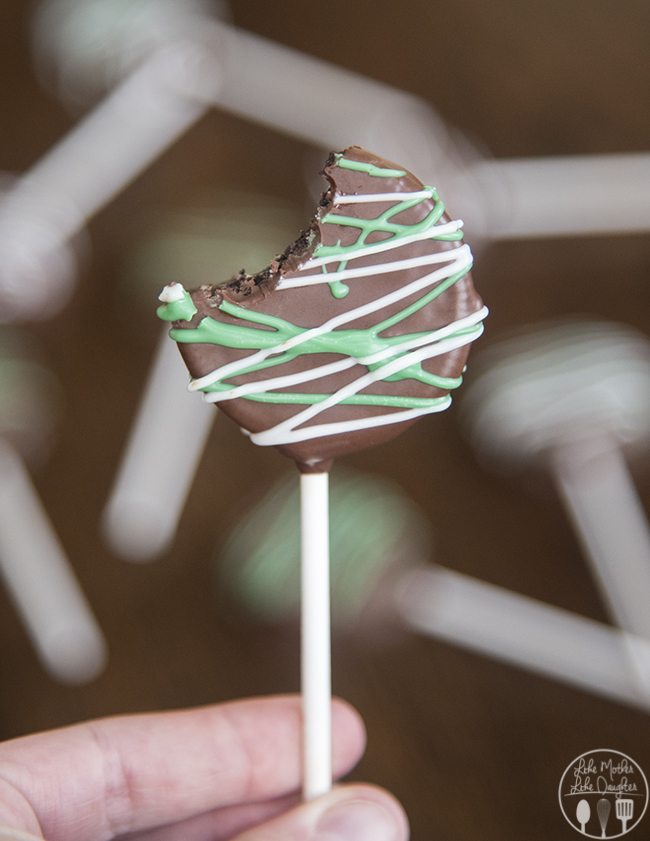 MAKE THESE DELICIOUS THIN MINT OREO POPS WITH THESE GREAT KITCHEN TOOLS AND INGREDIENTS: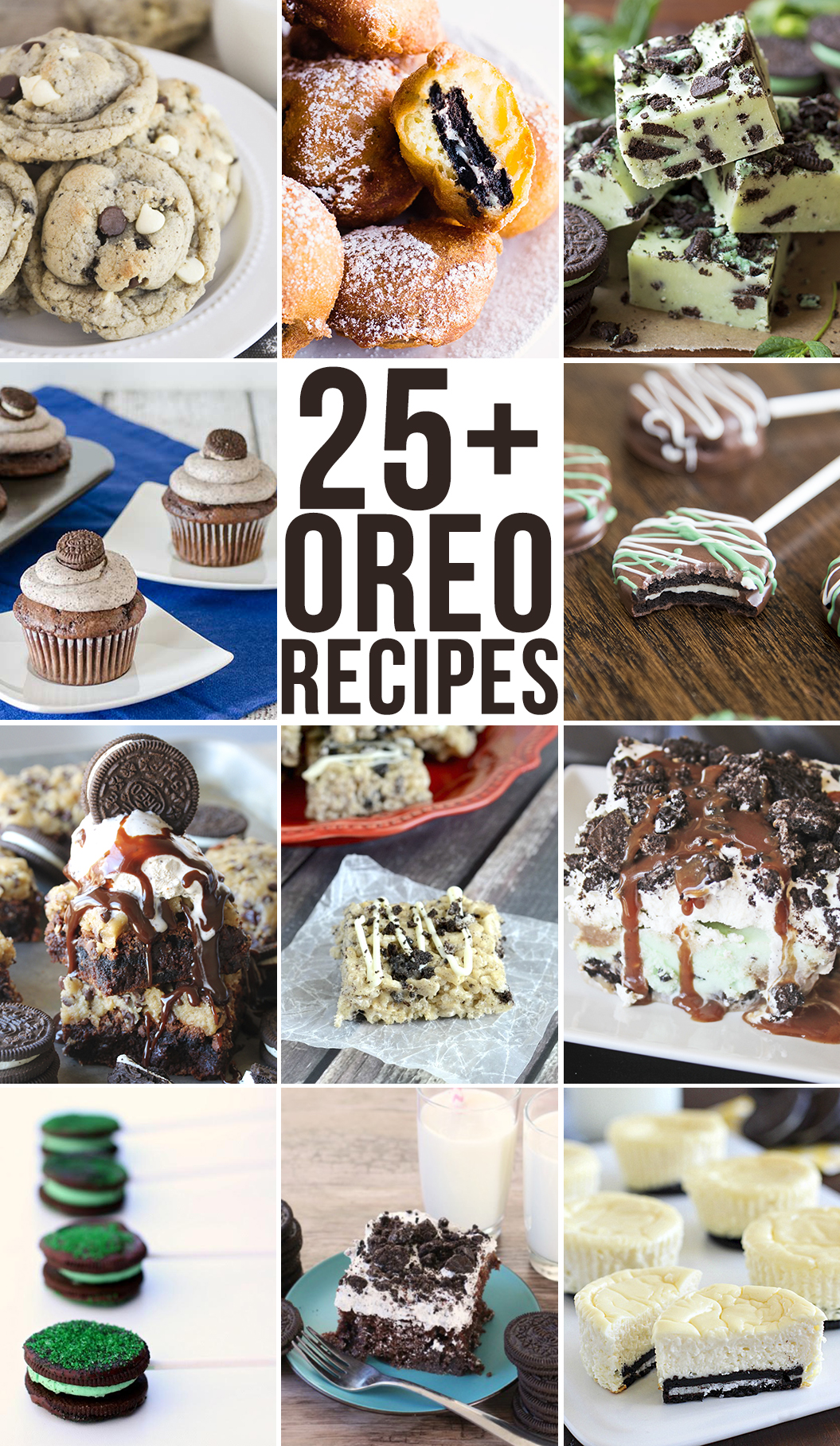 Today is National Oreo Day, so here are over 25 more Oreo Cookie recipes that I just know you'll love!!
Fried Oreos on Ashlee Marie
Oreo Buttercream Frosting on Real Mom Kitchen
Oreo Brownies with Cookie Dough Frosting on The Stay at Home Chef
Grasshopper Ice Cream Dessert on Jamie Cooks It Up!
Cookies and Cream Poke Cake on Butter with a Side of Bread
Oreo Chocolate Chip Cookies on The Baker Upstairs
Mint Oreo Pops on 365 Days of Slow Cooking
Lighter Mini Cheesecakes with Oreo Crust on Yummy Healthy Easy
Oreo Rice Krispie Treats on Creations by Kara
Mint Cookies and Cream Fudge on Life Made Simple
Mint Chocolate Chip Ice Cream Pie
Peanut Butter Oreo Brownie Cups
Mint Cookies and Cream Ice Cream on Life Made Simple
Mint Oreo Truffles on Creations by Kara
Cookies and Cream Cheesecake Brownies on The Baker Upstairs
Easy Oreo Ice Cream Cake on Butter with a Side of Bread
Oreo Turtle Bars on Jamie Cooks it Up!
Cookie Dough Oreos on The Stay at Home Chef
Chocolate Peanut Butter Pie on Real Mom Kitchen
Ice Cream Cone Oreo Cake Ball on Ashlee Marie
White Chocolate Raspberry Oreo Balls on Butter with a Side of Bread
French Silk Pie on Real Mom Kitchen
Baked Chocolate Donuts with Mint Frosting on The Stay at Home Chef
Oreo Cheesecake Pudding Cups on Creations by Kara
Oreo Topped Cheesecake Brownies on Life Made Simple