The best healthier dinner recipes for a great start every new year, or all year long. These recipes will help you stick to your new years resolutions, and still enjoy delicious food that you'll love.

Most of us over indulge during the holidays, I don't think we can help ourselves between holiday parties, and holiday dinners, and making and receiving treats from your neighbors. As soon as the new year starts its the perfect time to reset and enjoy still delicious food, that is a little better for us.
I'm here to help you with this as much as I am here to help myself. We have over 25 healthy new year dinner recipe ideas. These are a great way to jump start those new year's resolutions.
Chicken Recipes:
Barbecue Chicken Lettuce Wraps // Like Mother Like Daughter
Lettuce wraps stuffed full of bbq flavored chicken, corn, black, beans and bell pepper. Perfect for a lighter lunch or dinner.
Crispy Chicken Cobb Salad // Like Mother Like Daughter
A delicious twist on traditional cobb salad, but still loaded with so many yummy ingredients. Don't forget your favorite dressing on top.
Baked Chicken Taquitos // Two Peas and their Pod
Easy baked chicken taquitos are stuffed with chicken and cheese, they're sure to be a family favorite!
Honey Lime Chicken // Like Mother Like Daughter
This grilled chicken is coated in a sweet and tangy marinade. It's so good served over rice or quinoa.
Lemon Chicken Thighs // Sugar and Soul
Slow roasted, tender chicken thighs that are bursting with a fresh lemon flavor.
Chicken Caesar Pasta Salad // Like Mother Like Daughter
This salad is a tasty twist on chicken Caesar salad with pasta added to the mix.
Best Baked "Fried" Chicken // Carlsbad Cravings
Delicious oven baked chicken that tastes as good as your favorite fried chicken place, without all the oil.
Slow Cooker BBQ Chicken // Like Mother Like Daughter
Perfectly shredded and bbq flavored chicken cooked so easily in the slow cooker. It's so good on bread, a bun, wrapped in a tortilla, or even on your favorite salad.
Bruschetta Chicken // Like Mother Like Daughter
This delicious chicken is topped with fresh tomatoes, basil, and balsamic vinegar for the perfect lighter dinner you'll love!
Slow Cooker Chicken Potatoes and Green Beans // Persnickety Plates
A delicious meal where the whole thing is cooked in the crockpot!
Cashew Chicken Wraps // Tastes Better from Scratch
These chicken wraps are loaded with grilled chicken, cabbage, snap peas, carrots, and all coated in a yummy vinaigrette dressing.
Vegetable Chicken Soup // Like Mother Like Daughter
A delicious soup loaded with vegetables, chicken, and noodles.
Air Fryer Chicken Breasts // The Slow Roasted Italian
Juicy, flavorful chicken breasts that are cooked to perfection in the air fryer! Great for eating plain, over rice, on a salad, or sandwich.
Chicken Stir Fry // Life in the Lofthouse
A delicious substitute for your favorite take out, loaded with chicken, and veggies, and so good on it's own, or over rice or noodles.
Healthy Seafood Recipes:
Blackened Tilapia // Like Mother Like Daughter
This delicious flaky tilapia is coated in a Cajun spice rub and sautéed to crispy perfection.
Honey Lime Salmon // Like Mother Like Daughter
A delicious sweet and flavorful salmon, that is flakey, and perfect paired with some roasted veggies.
Honey Glazed Shrimp // Like Mother Like Daughter
Shrimp coated in a sweet sauce made from pineapple juice, teriyaki sauce, garlic, brown sugar, and honey. It's delicious served on it's own, or with rice, quinoa, or veggies.
Baked Halibut // Savory Experiments
A delicious baked halibut topped with fresh vegetables to look like a rainbow, it's sweet, and fresh, and light.
Grilled Salmon with Greek Salsa // I Wash, You Dry
A delicious seasoned, flakey salmon topped with a cool cucumber, tomato, and olive salsa.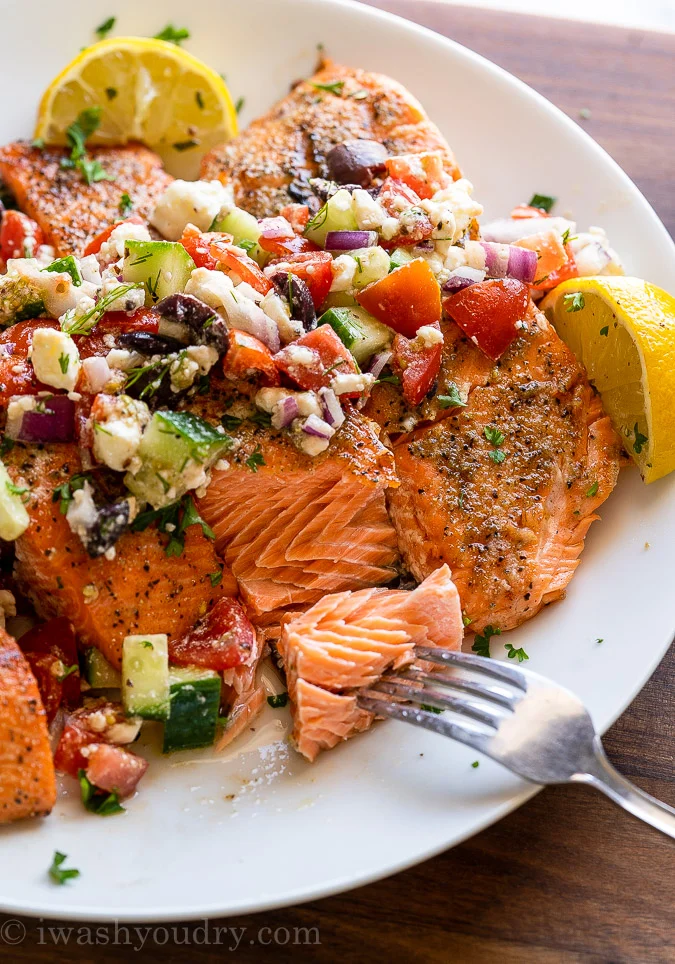 Healthy Beef Recipes:
Philly Cheese Steak Stuffed Peppers // Eazy Peazy Mealz
Stuffed peppers filled with flavorful ground bee, mushrooms and cheese. A delicious low carb version of the classic sandwich.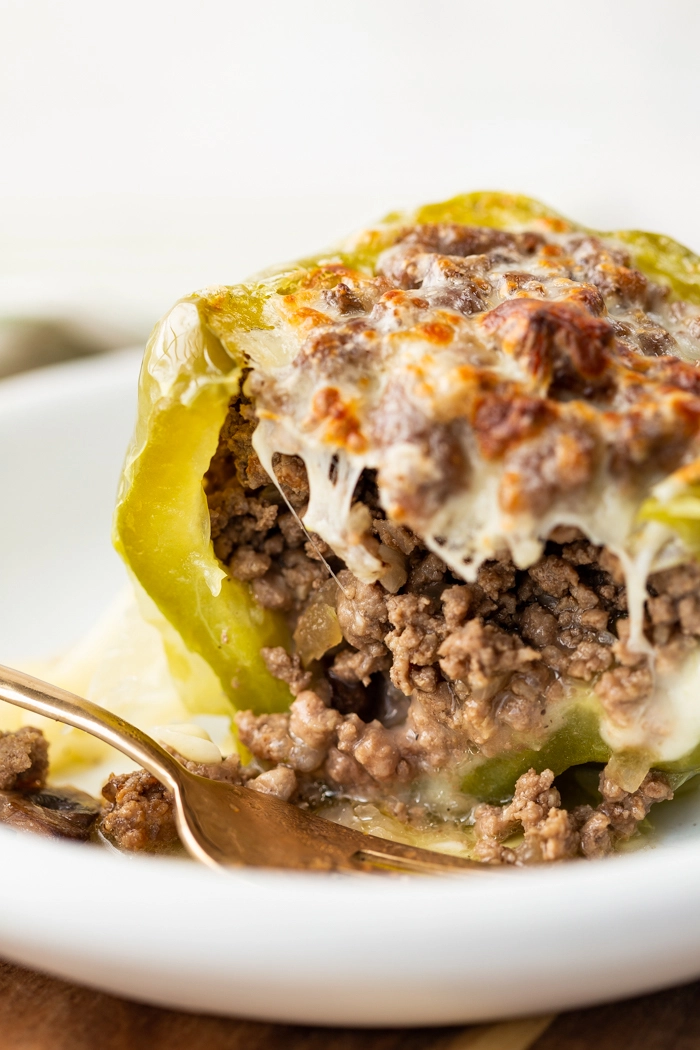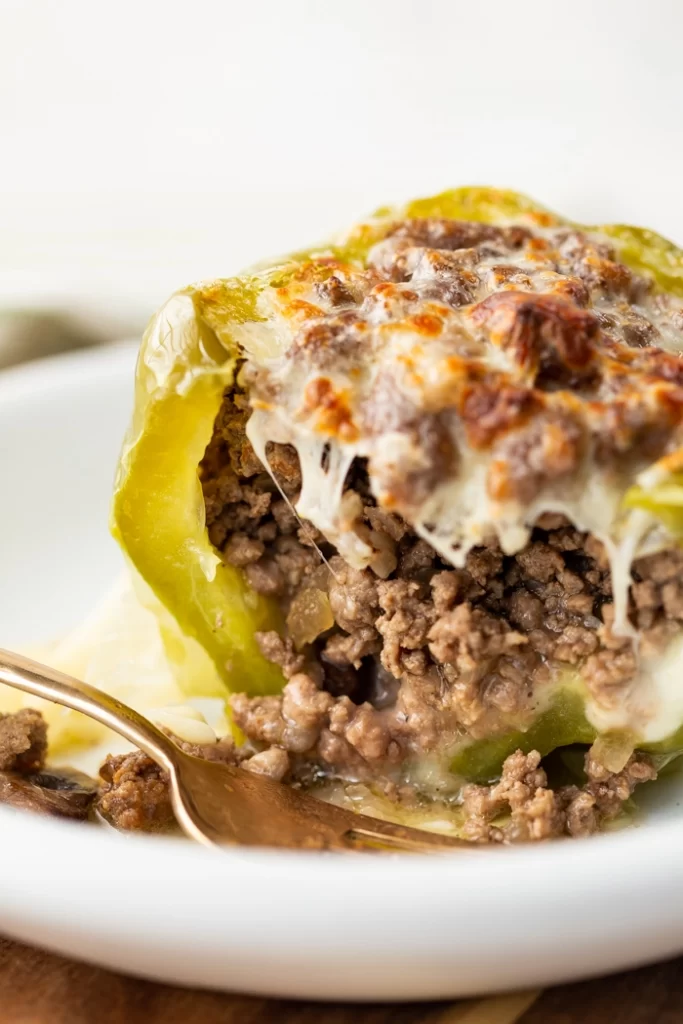 Pumpkin Chili // Like Mother Like Daughter
A delicious fall twist that can be enjoyed all year long. It's hearty, filling, and so delicious!
Foil Pack Dinners // Like Mother Like Daughter
Delicious foil packed dinners loaded with beef patties, and your favorite veggies. Great cooked in the oven or over the campfire.
Crockpot Vegetable Beef Soup // The Recipe Rebel
This is a hearty and healthy soup recipe, that only takes 15 minutes of prep. It's loaded with tender beef and lots of vegetables.
Taco Ground Beef Stuffed Sweet Potatoes // Oh Sweet Basil
The perfect balance of healthy and delicious, these baked sweet potatoes are stuffed with seasoned ground beef and other taco toppings.
Hamburger and Zucchini Skillet // Julies Eats and Treats
A delicious one pot dinner that is filling, and healthy. It's loaded with zucchini, ground beef, brown rice and more!
Healthy Pork Recipes:
Polska Kielbasa Stir Fry // Like Mother Like Daughter
A delicious stir fry packed with kielbasa sausage, and lots of fresh cooked veggies. So yummy!
Teriyaki Pork Kabobs // Like Mother Like Daughter
Quick and easy pork kabobs, loaded with fresh veggies, pineapple, and all coated in teriyaki sauce.
Sausage Tortellini Soup // Culinary Hill
This rustic and delicious soup is so delicious on a cold day. Load it with extra fresh veggies to give it even more goodness.
Sheet Pan Sausage and Veggies // I Heart Eating
Zucchini Boats // Lil Luna
Zucchini stuffed with Italian sausage, tomatoes, and a little cheese is a perfect healthy dinner.
Pork Ramen // The Food Charlatan
A big hearty bowl full of a flavorful broth, ramen noodles, shredded pork and lots of vegetables and garnishes.
Potato Soup // House of Yum
You'd never guess that this potato soup is secretly healthy, with no cream or milk in the soup, it's still so smooth, and creamy, and so delicious.
Healthy Turkey Recipes:
Slow Cooker Turkey Breast // Like Mother Like Daughter
A delicious juicy turkey breast without worrying about cooking a whole turkey. Great to enjoy all year long.
Italian Turkey Orzo Soup // Like Mother Like Daughter
A delicious hearty soup, loaded with tender veggies, turkey, and orzo noodles. A great way to use up leftover chicken or turkey meat.
Turkey Stuffed Peppers // The Love Nerds
These stuffed peppers are hearty and delicious, packed full of ground turkey, and rice, and seasoned to perfection.
Baked Turkey Meatballs // Simple Joy
A delicious lighter alternative, these turkey Italian meatballs are perfect in a sub sandwich, over pasta, or however you want to enjoy them.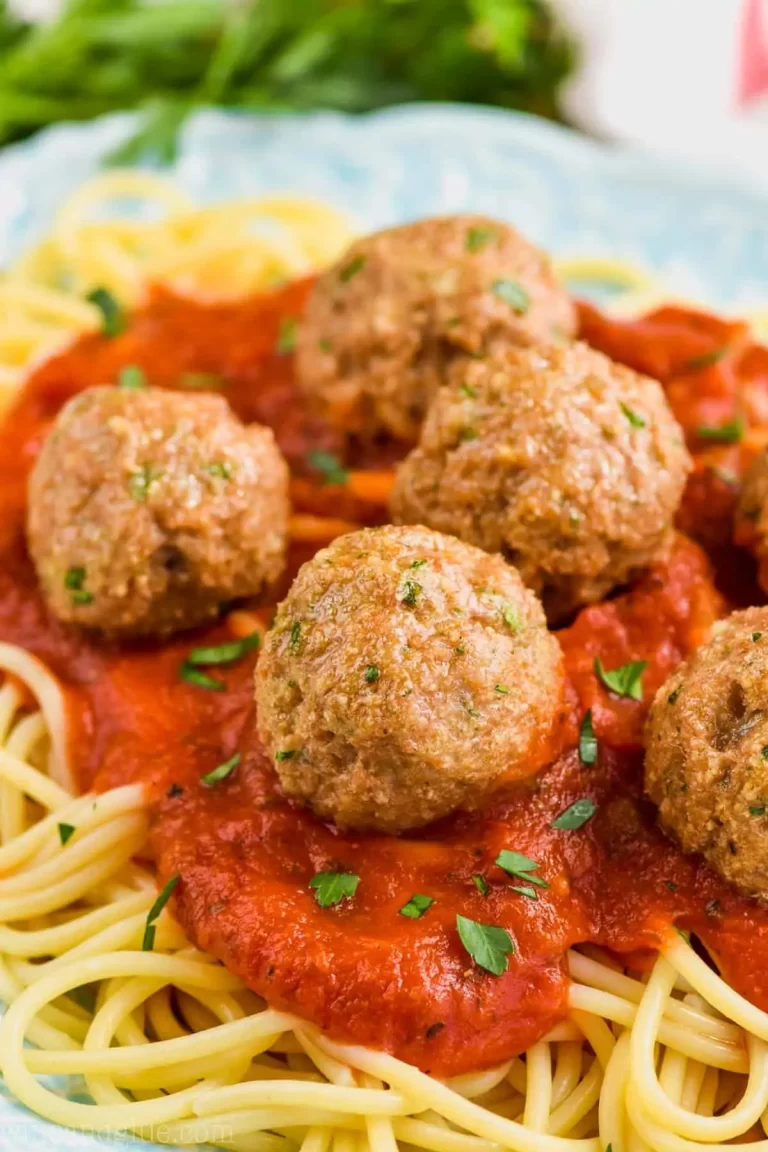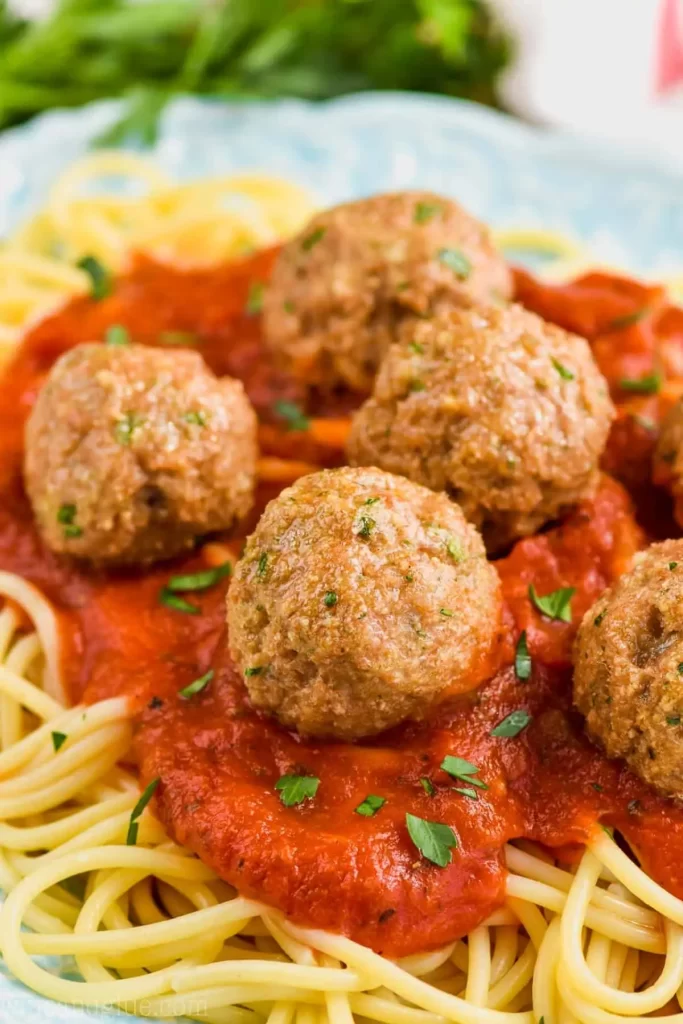 Turkey Taco Chili // Show Me the Yummy
This delicious chili comes together in just 30 minutes, it's healthy, gluten free, and loaded with veggies and lean protein.
Healthy Vegetarian Recipes:
Lentil and Brown Rice Tacos // Like Mother Like Daughter
These lentil tacos are hearty and flavorful, and great for vegetarian and meat eaters alike. Top them with your favorite taco toppings, lettuce, salsa, cheese, etc, and enjoy.
Rainbow Vegetable Pizza // Like Mother Like Daughter
A delicious pizza loaded with the colors of the rainbow with so many delicious veggies on top.
Quinoa Taco Bowls // Lemon Tree Dwelling
Healthy and delicious bowls, with the great flavors of a taco salad!
Sweet Potato and Black Bean Tacos // Like Mother Like Daughter
Healthy and delicious tacos loaded with roasted sweet potatoes, black beans, red onion, avocado, and more!
These healthy recipe ideas were first posted on December 28, 2015. The photos and links were updated on January 7, 2022.